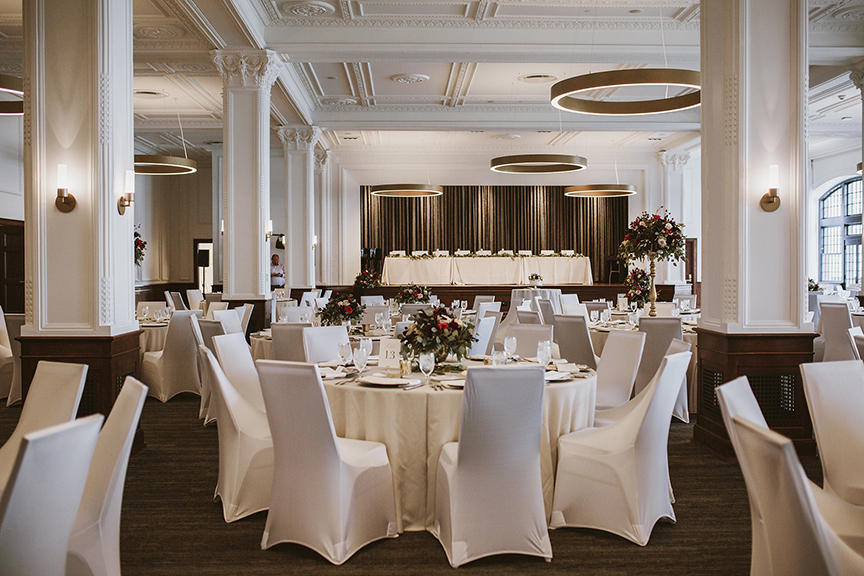 Tea Room
Reservation of the Tea Room provides 5,175 completed square feet and 16-foot ceilings, with a very open and expansive feel. The space is designed with neutral tones to create a simple and minimalist look and feel – ideal for each event to bring its own color and enhance the space.
The Tea Room is the most beautiful historic event venue in the Midwest. The space is available for reservation of private events ranging in:
Weddings
Receptions
Formal Dinners
Award Ceremonies
Dances/Prom
Fundraisers
Recitals
Cocktail Parties
Business Seminars
Conferences
Birthday Parties
Baby Showers
Concerts
Fashion Shows
Tea Room Amenities Include:
5,175 square feet of space (includes Tea Room, Garden Room, Jubilee Room, Lounge, and Lobby)
Rose Room — a secluded VIP Room, complete with bathroom
Non-exclusivity of catering and access to a professional-grade kitchen
Seated dinner for up to 300 people
A cocktail reception with up to 425 people
Balconies overlooking the downtown skyline
14 floor-to-ceiling windows
16-foot ceilings
LED chandeliers
Built-in A/V and sound
Projector and screen
Set-up, tear down, and cleaning
Large stage with hardwood floor
Dance floor (24' x 24')
Tables and chairs
Linens, napkins, and chair covers (black or white)
China, glassware, and flatware
All bartender, service, and security staff (Caterer will need to provide wait staff for meal service)
On-site event manager
Layout specific to your event
Express elevator
Wi-fi
Five underground parking spots
Valet parking (additional pricing)
Professional Commercial Kitchen:
Your caterer of choice will find our kitchen is extraordinarily equipped and designed to prepare their finest meals possible for your special event. Kitchen amenities include:
Walk-in refrigerator
Two-door freezer
Vegetable preparation sink
Six-burner range
Two double-stacked convection ovens
Three hot plate holding bays (accommodates up to 100 plates each bay)
One hot food holding bay
Speed racks
Various prep tables/areas
Plate warmer storage racks
Ice bins with pushable drop-in roller carts
Full dish pit with high-temperature dishwasher and three-compartment sink
Rose Room:
Provided with your reservation of the Tea Room, the Rose Room is a secure, private space designed for the bridal party, band, or VIP guests. Two large windows and a 20-inch LED chandelier provide the perfect lighting for photos and makeup application. The Rose Room also has a bathroom and an area accommodating for a bride or speaker.
Stage:
The stage is a focal point for the Tea Room and provides a prominent presence of the room. Whether you're using it as a head table for a wedding, space for a live musical performance, or for a corporate presentation, our stage provides high visibility for all guests to enjoy. To the front of the stage, you have the option to use our portable black hardwood dance floor as well as a projector and screen.
Lounge:
The Lounge directly adjacent to the Tea Room is about 900 square feet and is the main entrance to the Tea Room. It is an inviting space decorated with stylish furniture and distinctive art where a small party can enjoy drinks and hors d'oeuvres prior to going into the main event.
Garden and Jubilee Rooms
For more of an intimate setting, the Garden Room and Jubilee Room are a perfect choice. Comprised of 2,688 total square feet and nine floor-to-ceiling windows with balconies, the elegance of the space speaks for itself.
These two rooms are a package deal and are ideal for smaller events accommodating group sizes ranging between 100–150 people. This option is perfect for small receptions and ceremonies, bridal showers, rehearsal dinners, corporate luncheons and meetings, or a cocktail reception for a fundraiser. Our professional commercial kitchen is included for your caterer of choice to use. These rooms are also both included in the rental of the Tea Room but can be reserved on their own for an event as well.
Garden and Jubilee Room Amenities Include:
2,688 square feet of space
Non-exclusivity of catering and access to professional grade kitchen
Accommodates ceremonies or receptions of up to 100 guests
Accommodates cocktail receptions of up to 150 guests
Balconies overlooking the downtown skyline
Floor-to-ceiling windows
16-foot ceilings
LED chandeliers
Built-in A/V and sound
Projector and screen
Set-up, tear down, and cleaning
Tables and chairs
Linens, napkins, and chair covers (black or white)
China, glassware, and flatware
All bartender, service, and security staff (Caterer will need to provide wait staff for meal service)
On-site event manager
Layout specific to your event
Express elevator
Wifi
Five underground parking spots
Valet parking (additional pricing)